I first heard of Ben Youcef a couple of years ago. I had read an article about a Muslim actor in Hollywood who is a "muezzin," someone who gives the call to prayer. Youcef had been featured in an article on NPR, which made the rounds on Facebook. Everyone I know seemed to be posting the article or the video of him calling the "adhan".
Born Abdelwahab Benyoucef, Youcef, 36, is originally from Algeria and came to Los Angeles to pursue a career in acting after going to school in London and modeling in New York. Youcef has been featured as a guest star in episodes of NCIS:Los Angeles and Law and Order and has also costarred in films such as Munich and From the Rough.
Now, Ben Youcef stars in The Algerian, directed by Giovanni Zelko, releasing in NYC this Friday. In The Algerian, Youcef plays the title role of "Ali," a Muslim from Algeria who comes to the United States with maybe not the best of intentions. In the movie, Ali comes into contact with all sorts of people as he settles into the States, classmates, shopkeepers, and others, all of whom start to reshape his thinking, including an Imam named Suleyman, played by actor Harry Lennix.
I recently had a chance to interview Ben Youcef about his role in The Algerian, his acting career, and what's next for him. Read on!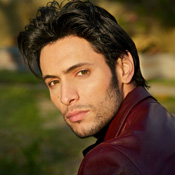 Did you see any part of yourself in Ali at all?
Yeah, in the sense of being a fish out of water, trying to find your place in the world. There are similarities. For example, think of a page [in the script] – it's 100 pages- and part of it, page 1-10, it's you and you don't have to act much, you just have to be yourself. From 10-20, he's part of a plot. That's different from me so you have to use your imagination and find some kind of connection to the character. That's when you have to roll up your sleeves and go to work. That's part of the role for me.
His [Ali's] relationships, are really something that I understand because I have friends in America from all walks of life and that's very similar because that's my personality. I like to understand and I open myself to learn about other cultures. I never understood the concept of coming from another country and staying with your own the whole time. What's the point of doing that if you don't get a chance to expand? But of course, without losing your identity. That's very important. You have to hold on to that because that's who you are. If you forget who you are and where you come from, then you're in trouble. That's what my dad always says.
I saw in the credits that you have "Story Credit". What did you bring to The Algerian?
Mostly authenticity. Giovanni [Giovanni Zelko, the director] was very supportive towards making sure everything is done right and is authentic as much as possible because that was very important to us both. He relied on me for the culture part and make sure everything is proper – the prayer and the rituals. It was a wonderful collaboration between the two of us. We started the whole idea at Gold's Gym. we talked about it – me being a Muslim affected by 9/11, feeling that my religion has been hijacked and him being from New York City so his city was ruined – and there was a connection. And that's where we started collaborating and talking about working on a project on coexistence and bringing people together. That's how we started this journey for The Algerian.
In the story, I liked your conversations with Suleyman, the Imam in the story. There was one thing he said that I really liked – that unless you are completely honest with you, you can't be honest with others. Do you think you have incorporated some of that into your own life?
It's a roller coaster ride, to be honest, it's not as simple. There's certain things that I can always hold on to. For example, I have never drank in my life, not even a sip, or smoked, or did drugs, ever. And my friends happen to be non-Muslim and they drink. I am the designated driver. It's a juggling act with me, it's always been that way. It's not as simple as living back home, wherever everyone is the same. So you have to hold on to your identity. I'm interested in other cultures but at the same time I don't want to lose who I am and where I come from. I'm always going to be a Muslim first and a Muslim last, Muslim forever. Even though with what's going on in the world, it's really disturbing. For example, I was at the gym a couple of weeks ago and was asked if I was Sunni or Shia and I refused to answer that question because it just divides us as a nation and it's heartbreaking for me because it shouldn't be that way. We're Muslim and we shouldn't be divided.
For me, it's been a journey. It's interesting because I became more understanding of my faith living in the Western world. I understand why drinking is bad for you. You appreciate those values but of course I'm not a saint so it's really a struggle on a daily basis to hold on to your faith but you got to the best you can.
So that's the journey. It's not black and white. Life is grey and you have to walk through it.
Speaking of trying to keep your identity – I first heard of you a couple of years ago with an article about how you give the call to prayer in LA a few times a week. Is that something you still do?
I still do it at interfaith events. Whenever there's an opportunity to share my faith with other people from different faiths like Christians, Jews, or Buddhists, I'll go there and share my faith with them because I find that's part of humanity – there's a lot of similarities among all of us. The sad part is that we focus on the differences even though 90% of what Islam, Judaisam, and Christianity teach is to be a righteous man and to to do the right thing.
You had a part to play in the story of The Algerian. Do you want to work on any other particular topics or write any other stories in the future? What would that be around?
It would probably be about Muslims – a Muslim guy, regular people. Most of us basically are trying to work hard and have a good, respectful life. Probably something like that. Something more down to earth, just a normal person who is living in America, having friends, but not dealing with political issues, more day-to-day life issues.
We're very interesting as a culture too. We have so much going on for us. I don't even know where to start. If you have even a story about a Muslim family, you'll find so much interesting stuff that you can work with.
We need directors and writers that can create opportunities and projects for our people. That's the only way it's going to happen – you need somebody from your own to create, produce, and direct projects about Muslim Americans, just living their life and going through the same issues or struggles, the same thing that you can see in any other family from different cultures, whether Americans or Latinos or African Americans, we have so much to contribute, so much to share. The thing is, we need the writers, directors who can support those stories. Without them, it' going to be tough. We have to create our own projects and we haven't had those great opportunities to do that.
On final words about The Algerian, Ben had this to say:
It's a beautiful, wonderful story. It has a great message, especially the character of Harry Lennix, Suleyman. I hope people get to see how great of an imam he is, what great leaders that we have. Hopefully we'll have more of those stories focused on characters like Suleyman in the future.
—
Thanks to Ben Youcef for taking the time to talk to me. The Algerian is already open in Washington, DC and opens in NYC this Friday.